Our Commitment to You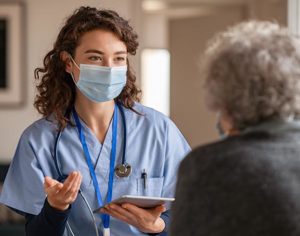 The safety and well-being of our residents, families, and team members has always been our top priority. Since the first reports of COVID-19 emerged in the United States, we have taken proactive steps to protect those in our care, and we continue to do so each and every day.
Our precautionary safety measures are based upon recommendations from the Centers for Disease Control and Prevention (CDC), other leading health organizations, and our own task force.
Honoring Our Commitment
As of September 7, 2021, all staff are required to become fully vaccinated against COVID-19.
Our Commitment in Action
We continue to practice effective infection control protocols, such as wearing masks and social distancing, as appropriate, and other cleaning and sanitation procedures.
Recent COVID-19 Updates
Chesterbrook Residences has a booster clinic scheduled for May 11, 2022, to offer the second booster shot to residents and eligible staff (the CDC recommends a second COVID-19 booster for individuals 50 years of age and older).  5/3/22
Current Policies
Resources