Our Commitment to You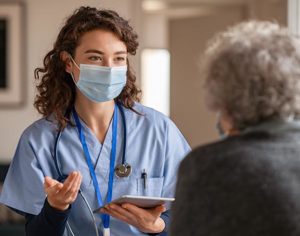 The safety and well-being of our residents, families, and team members has always been our top priority. Since the first reports of COVID-19 emerged in the United States, we have taken proactive steps to protect those in our care, and we continue to do so each and every day.
Our precautionary safety measures are based upon recommendations from the Centers for Disease Control and Prevention (CDC), other leading health organizations, and our own task force.
Honoring Our Commitment
As of September 7, 2021, all staff are required to become fully vaccinated against COVID-19.
Our Commitment in Action
We continue to practice effective infection control protocols, such as wearing masks and social distancing, as appropriate, and other cleaning and sanitation procedures.
Recent COVID-19 Updates
COVID-19 SNAPSHOT AS OF 09/20/2022

We have one staff that tested positive for COVID-19. They are experiencing mild symptoms and are recovering and isolating. Contact tracing has been done and testing of others suspected to have been exposed has occurred. No other positive cases were identified. We will continue to monitor residents and staff for signs and symptoms and take appropriate precautions as needed.
Current Policies
Resources