Our Commitment to You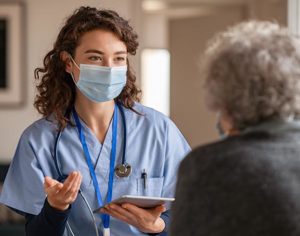 The safety and well-being of our residents, families, and team members has always been our top priority. Since the first reports of COVID-19 emerged in the United States, we have taken proactive steps to protect those in our care, and we continue to do so each and every day.
Our precautionary safety measures are based upon recommendations from the Centers for Disease Control and Prevention (CDC), other leading health organizations, and our own task force.
Honoring Our Commitment
Mandatory COVID-19 Vaccination for Staff
As part of our commitment to your safety, and the pursuit of the common good to break the chain of disease transmission, we believe it is our duty to provide a workplace that is free from potentially deadly viral infections, such as COVID-19. According to the FDA, the COVID-19 vaccine is currently the best hope for ending this pandemic and protecting our residents, our staff, and our families from getting the COVID-19 virus.
Since the COVID-19 vaccines were made available under the Emergency Use Authorization in December 2020, we have expressed our strong desire for every employee to be vaccinated based on FDA recommendations. With full approval of the Pfizer vaccine on August 23, 2021, and upcoming federal requirements, as well as our commitment to keep every resident and team member safe, the decision was made on September 7, 2021 to require all staff to become fully vaccinated against COVID-19 by November 8, 2021.
Our Commitment in Action
We continue to practice effective infection control protocols, such as wearing masks and social distancing, as appropriate, and other cleaning and sanitation procedures.
Recent COVID-19 Updates
All staff are required to become fully vaccinated against COVID-19 by November 8, 2021. 9/7/2021
We are working with our Long-term Care Pharmacy for the administration of booster vaccines for those residents and staff who are currently vaccinated. 9/7/2021
Current Policies
Resources